Storytelling Café
http://www.strongwords.org.uk/liskeard/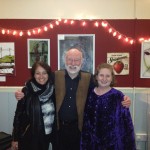 The Storytelling Café is a friendly and informal group that celebrates the wonderful world of Folk Tales, Legends, Tall Stories, Urban Myths, Anecdotes and Monologues.
The group meets monthly Liskeard Public Hall on every fourth Thursday of each month. Some members come to listen, some to tell. All are equally welcome.
Our tellers range from beginners to some of the best storytellers in the land. About once a quarter we have a guest storyteller.
There is a nominal charge to cover room hire and we ask a bit more when we have a guest performer.
Our experienced members work on their own account  at clubs, festivals and schools all over the land. In 2013 two of them won a British Award for Storytelling Excellence – equivalent to a BAFTA – for their wonderful work.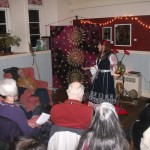 Many of our members also attend our sister club 'Strong Words' in Bodmin on the last Monday of each month at the Mason's Arms in Bodmin at 8 pm.
Why not come along? You will find we are welcoming, inclusive and non-judgmental – and the ability of the spoken word to let the imagination fly is truly liberating.
Upcoming Events
There were no results found.