Annual Singing Day – East Cornwall Bach Choir
March 3, 2018 @ 11:00 am
|
Singers £18, students £9
Event Navigation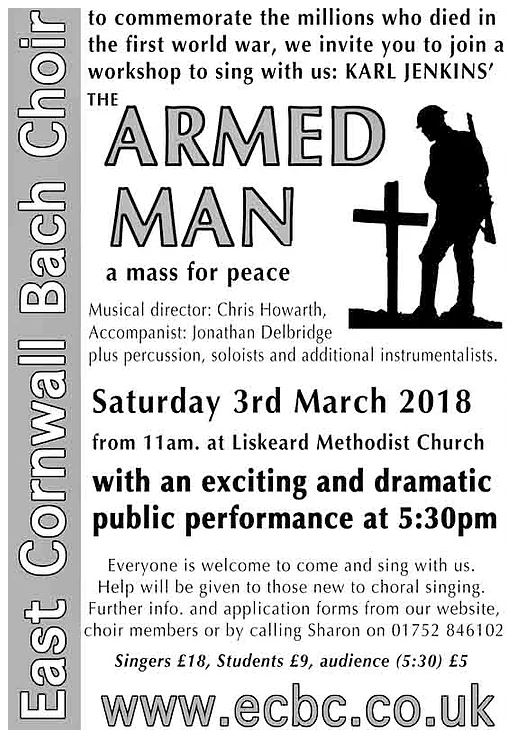 The East Cornwall Bach Choir is delighted to announce that our annual singing workshop for 2018 will be Karl Jenkins' "The Armed Man" a mass for peace. We chose this piece to commemorate the millions of people who died in the first world war which ended 100 years ago in 1918.
All singers are invited to join us for the day. Those who are less experienced choral singers can be paired with a choir member "buddy" who will help them learn the music during the day.
We will spend the morning and afternoon sessions rehearsing, then at 5:30 there will be a public performance of the mass, lasting about 45 minutes. Audience tickets for the performance are £5.
We will be led by the choir's musical director, Chris Howarth, accompanied by Jonathan Delbridge on the piano, together with two percussionists, and players of recorders, dulcian, trumpet and other instruments, to give rich and exciting timbres throughout the piece.
Singers £18, students £9. Full details and a contact telephone number are shown on the poster and an application form may be downloaded here: Singing Day Application Form.