Full Circle – The Dark Skies: Bright Stars Equinox Weekend On Bodmin Moor
September 22, 2017

-

September 24, 2017
Event Navigation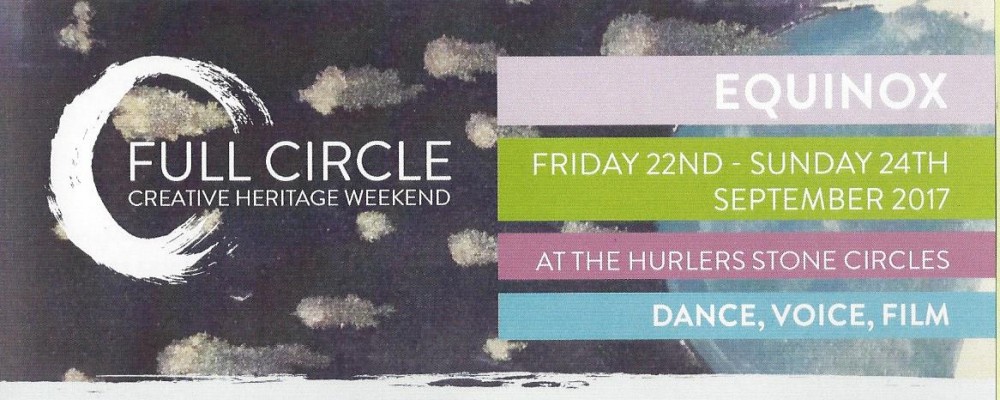 As part of their programme DARK SKIES: BRIGHT STARS, linking to the Dark Sky Landscape Status that Bodmin Moor has just been awarded by the International Dark-Sky Association, Mayes Creative are hosting FULL CIRCLE, a unique residency comprising workshops and events at the autumn Equinox from 22-24 September 2017, focused around the ancient astronomical significance of the Hurlers stone circles high on the Moor.
Two days of wilderness film workshops with Robert Schaller all the way from Colorado's Handmade Film Institute on 22 and 23 Sept dovetail with two days of dance and voice workshops on 23 and 24 Sept with talented locally-based practitioners Lois Taylor and Gerry Hillman, culminating in a public event, Singing Up The Stones, at the Hurlers alongside astronomy expert Brian Sheen of the Roseland Observatory.
Other opportunities for the public include a special film, music & food launch Equinox Evening Celebration at 7.30pm on Friday 22 Sept at Upton Cross Village Hall, and a Cinema Under The Stars screening of CONTACT with Jodie Foster and Matthew McConnaughey at 7pm on Saturday 23 Sept at Cheesewring Farm near Minions, as well as the Singing Up The Stones event at The Hurlers on the Sunday 24 September at 2pm and a guided tour with Brian Sheen at 3pm.
For more information on all the events, and to book your place, go to www.mayescreative.com
FULL CIRCLE WEEKEND PROGRAMME: 
LOW TECH FILMMAKING: ONE-DAY WORKSHOP
FRI 22 SEPT 10.30AM – 5.30PM
£40 individual/ £60 institution
Working on site at The Hurlers using analogue film cameras and reversal hand processing, Robert Schaller (handmadefilm.org) leads wilderness filmmaking for a low tech environment
EQUINOX EVENING EVENT
FRI 22 SEPT 7.30PM – 10.30PM
UPTON CROSS VILLAGE HALL, PL14 5AN
£11 with meal /£4 event only (food must be pre booked  bookings@mayescreative.com)
An evening of music, film, food and conversation about Dark Skies: Bright Stars. Astronomy experts are on hand with telescopes and a Magic Planet globe! Plus short film screenings: Hurling Through Time (Liskeard School with Cinestar), and a film of the puppet show created by local juniors with artist Reg Payn. Live music and visuals from Paper Cinema sound artist Chris Reed and filmmaker Joanna Mayes. Poetry Postie Sally Crabtree offers Starry Songwriting!
MOVEMENT & VOICE: TWO-DAY WORKSHOPS
£20/£35
SAT 23 SEPT 10AM – 5.30PM, & SUN 24 SEPT 10AM – 3PM
Parallel workshop bring together movement & voice to facilitate an experimental creative response to The Hurlers through guided tasks and improvisations
FRAMING THE PREHISTORIC: ONE-DAY WORKSHOP
SAT 23 SEPT 10AM – 5.30PM
£40 individual/ £60 institution
Exploring how the Neolithics created reflections and alignments of the night sky, Robert Schaller (handmadefilm.org) shares his analogue filmmaking techniques
CINEMA UNDER THE STARS
Open-air screening of CONTACT with Jodie Foster, Matthew McConaughey Dir: Robert Zemeckis (PG) 1997
SAT 23 SEPT 8.15pm start (hot food and drinks available from 7pm)
£5 / £3 U18 / £15 FAMILY TICKET
CHEESEWRING FARM PL14 5LJ  or if very wet, at UPTON CROSS VILLAGE HALL (please see our website/twitter for updates @MayesCreative)
Please bring something to sit on (rugs/low chairs) & warm clothing!
A very special outdoor film screening under the stars and overlooking the moors: After years of searching, Dr. Ellie Arroway (Jodie Foster) finds conclusive radio proof of extraterrestrial intelligence, sending plans for a mysterious machine.
SINGING UP THE STONES
With Brian Sheen, Roseland Observatory and acoustics specialist/percussionist Robin Tyndale-Biscoe
SUN 24 SEPT 2-3PM – £Pay What You Can
THE HURLERS STONE CIRCLES
(If very wet, please see our website/twitter for updates @MayesCreative)
Bring your voice to help us investigate the possible sonic properties of The Hurlers Neolithic stone circles, and enjoy a sharing of work created during the voice & movement workshops
Parking is limited on site – please car share if possible
THE HURLERS ASTRONOMY HERITAGE GUIDED TOUR
Led by Brian Sheen, Roseland Observatory
SUN 24 SEPT 3PM – £Pay What You Can
THE HURLERS STONE CIRCLES
(If very wet, please see our website/twitter for updates @MayesCreative)
Brian Sheen tells us more about the history of The Hurlers and recent research findings