Liskeard Carnival Week
June 17, 2019

-

June 22, 2019
Event Navigation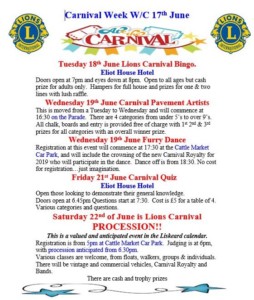 A week of fun events culminating in the Carnival procession on Saturday evening.
Tuesday 18th June: Lions Carnival Bingo at Eliot House Hotel
Door open at 7 pm and eyes down at 8pm
Wednesday 19th June: Carnival Pavement Artists
This will commence at 4.30 pm on The Parade. There are 4 categories from under 5s to over 9s. All chalk, boards, and entry is provided free of charge.
Furry Dance : Registration will commence at 5.30 pm at The Cattle Market Car Park and will include the crowning of the new Carnival Royalty for 2019 who will participate in the dance. Dance off is from 6.30 pm. No cost for registration
Friday 21st June: Carnival Quiz at The Eliot House Hotel. Doors open at 6.45 pm. Questions start at 7.30 pm. Cost is £5 per table of 4.
Saturday 22nd June: Lions Carnival Procession. Registration is from 5 pm at The Cattle Market Car Park. Judging is at 6 pm with procession beginning around 6.30 pm. Various classes welcome from floats, walkers, groups and individuals.