Sound Bath
June 5, 2016 @ 1:00 pm
|
Pre booked Sound bath at £20 £30 for the Pool side Earth Sound Meditation and the Sound Bath £25 for Sound bath on the door
Event Navigation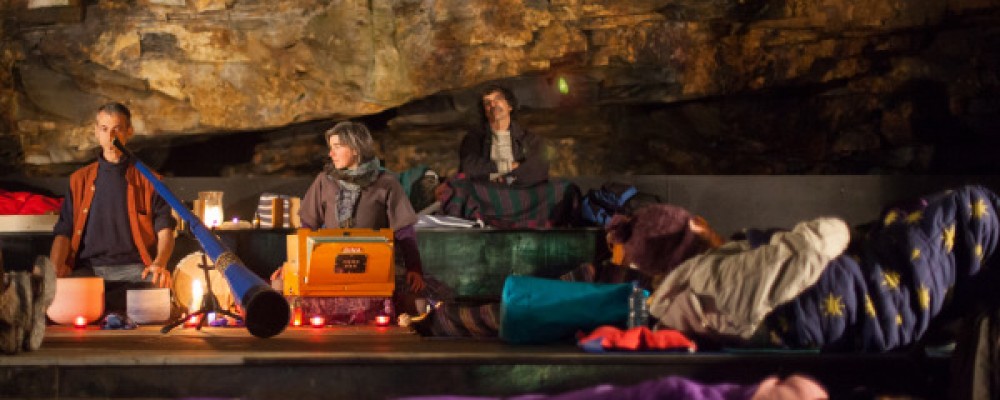 Looking to relax and find inner peace?
Olivier Maxted of Soundbathhealing.com and Megan Selby of thelivingvoice.co.uk return to the magical Carnglaze Caverns for their third annual Healing Sound Experience on Sunday 5th June . Come along and drop into a deep relaxation Sound Bath like no other.
Megan and Olivier weave sonic tapestries to guide you to a deeper state of consciousness. You simply lie down and drop into the vibrations and energy created by the didgeridoo, harmonium, tibetan bells, crystal bowls, drums and Megan's deeply resonating voice.
The event this year comprises of two parts.
The main event being the Sound Bath starting at 3pm.
Prior to this we will be holding a beautifully connective vocal session by the pool at 1pm. Places are limited so please be sure to book in. This is a wonderful opportunity for you to connect with your voice and others deep in the Earth. This will be a beautifully peaceful part of our day.
Please bring a comfortable mat to lie on and plenty of blankets/sleeping bags/cosy clothes to snuggle up in .
Pre booked Sound bath at £20
£30 for the Pool side Earth Sound Meditation and the Sound Bath
£25 for Sound bath on the door
includes entry to Caverns and Gardens
Tickets available from http://sound-bath-healing.simpletix.com/SimpleTixExpress/Events/EventSectionDetail.aspx?ShowId=22486&EventTimeId=44031