Sound Bath at Carnglaze
Event Navigation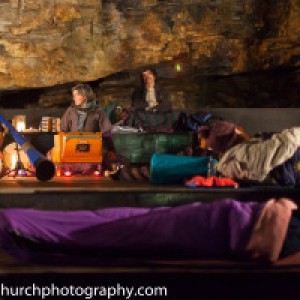 This is Olivier and Megan's fifth annual Sound journey in Carnglaze Caverns. Always a profound and unforgettable experience. They'd love to share it with you.
The afternoon consists of two parts.
Part One: Limited space.  We begin by making our way down to the lower part of the cavern to the beautiful candlelit poolside. Here we settle into the energy of the rocks, water and stillness that is unique to being in the earth. The acoustics are fabulous and the feeling primal. Our voices join in song, some led, some improvised and intuitive. Allowing our hearts to connect, tune into the wisdom we find and set positive intentions for ourselves and beyond.
Part Two: The Sound Medicine Journey. This is the time to get super cosy with camping/yoga mats, sleeping bags, blankets, hats, cushions and even hot water bottles. Olivier and Megan weave sonic tapestries to guide you to a deeper state of consciousness, guided by the energy of the Caverns, woodlands and all who join us. Both Olivier and Megan bring healing through songs and sounds of our ancestors for a truly special experience that will feed your soul.
POOL SIDE SOUNDING: 3PM
SOUND MEDICINE JOURNEY : 5PM
"One of the most amazing experiences of my life"
"The beautiful sound healing has assisted me in feeling myself again"
"It brought me exactly the peace I needed"
Tea will be available so do please bring a mug
Also a top tip is to bring cosy socks and a flask of hot water for a hot water bottle for extra snuggness. Temperature in the Caverns is a steady 10 degrees.
Release stress, anxiety and unwanted thoughts
Feel more energised, happier and uplifted
Release limiting physical, emotional & mental patterns
Change your life for the better