The Schmoozenbergs
February 21, 2020 @ 8:00 pm
|
£11
Event Navigation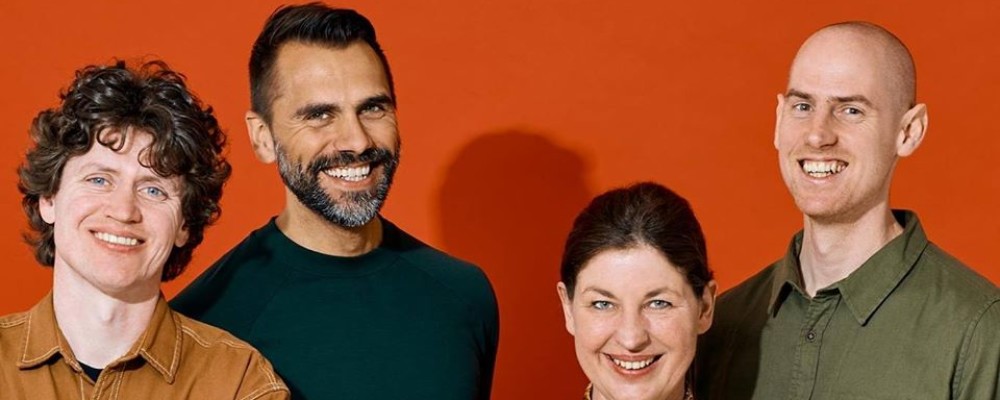 Conjuring up the mood of 1930s Paris, fused with flavours of Eastern Europe and the energy of a campfire jam session, The Schmoozenbergs' uplifting music will put a smile on your face and a bounce in your step. With roots in Gypsy Jazz and influences beyond, their two guitars, violin and double bass bring you irresistible rhythms, evocative melodies and playful improvisation to create an upbeat and heart-warming sound.
Their live show is a mixture of original music from their new album, alongside imaginative interpretations of classic jazz and swing tunes by the likes of Django Reinhardt, George Gershwin, Duke Ellington and Fats Waller.
The perfect gig for a February evening!
Sam Stennett – Guitar
Tom Brydon Smith – Guitar
Ron Phelan – Double Bass
Gina Griffin – Violin
"The musicianship is excellent, laidback and accomplished…played with love and abandon" (Folkradio.co.uk)
"Unashamedly good time, beautifully played music" (Fatea Magazine)
Tickets: £10 advance, £11 door, £1 reduction for Friends of Calstock Arts, £8 under 21s and students with ID.
See them here
Click here for tickets or phone 01726 879500
Tickets also available from Limekiln Gallery, Calstock. Opening times 11.00am to 5.00pm Tuesday to Saturday.
Doors and bar 7.00pm, start time 8.00pm