Queen's Platinum Jubilee
A round up of the events happening in and around Liskeard to celebrate the Queen's Platinum Jubilee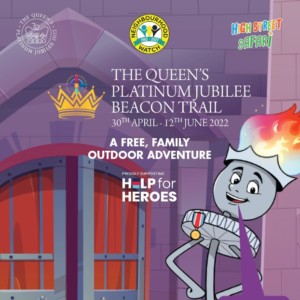 Jubilee Beacon Trail
Take part in this historic celebration with the official family story-trail in Liskeard. There are 7 whimsical characters to find as they go on an adventure. Not only that but Sir Barnaby Beacon will guide you through the history of The Queen's 70 year reign.
Simply scan the QR codes, displayed at 7 locations in the town, to collect digital stamps. You'll get to choose what happens in the story and see the characters come to life in augmented reality.
Go to the website below to start your free, family adventure.
https://highstreetsafari.com/locations/jubilee-liskeard
Liskeard and District Museum
Come down to Liskeard Museum between 10am and 4pm from 30th May to 1st June and you can take part in our FREE Jubilee Trail and crafts.  No booking required!
Come and see our pop up display and learn about when the Queen visited Liskeard.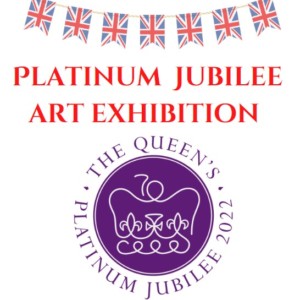 Jubilee Art Exhibition
The Town Council has been running an arts and crafts competition to celebrate the Platinum Jubilee of Queen Elizabeth II – all the details are here – www.liskeard.gov.uk/jubilee-arts-and-crafts-celebration
There will be an exhibition of the entries at Liskeard Public Hall on Saturday 4th June, 10am-4pm with the prize giving ceremony taking place at 3pm. Please come along and view the entries and show your support.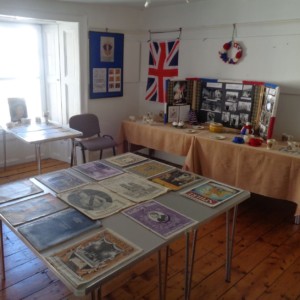 Stuart House Pop Up Royalty Exhibition
Liskeard OCS are displaying their Platinum Jubilee Exhibition which will be on show from May 30th to June 10th in Stuart House, Barras Street, Liskeard.
Queen Elizabeth II's distant ancestor King Charles I stayed at Stuart House for several nights preparing for the Battle of Lostwithiel in 1644.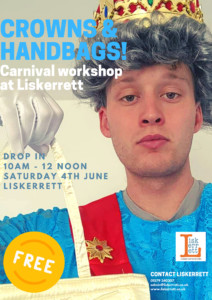 Crowns & Handbags Workshop
Anyone & everyone can be a queen for the day. Carnival workshop to make crowns & handbags.
Drop in session at Liskerrett Community Centre, Saturday 4th June, 10am to 12 noon.
FREE!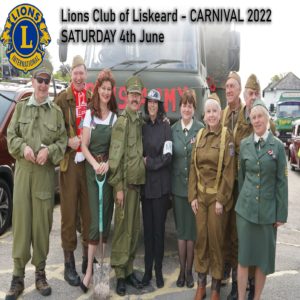 Liskeard Carnival
We are counting down to the first Carnival for three years! It will be on Saturday 4th June to coincide with the Queen's Platinum Jubilee Celebrations.
Please note this year we will be starting from the senior school and the route is shorter.
From 2:30pm at senior school and judging is at 3:15pm, with procession anticipated from 4pm.
After a long break we would like the town to come and celebrate with us!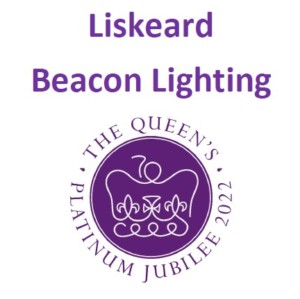 Liskeard Beacon Lighting
The Jubilee Beacon will be lit at 9.45pm on Thursday 2nd June on St Martin's Church Tower.
Diu Regnare performed by Kate Pumffrey at 9.35pm
Majesty performed by Liskeard Silver Band at 9.40pm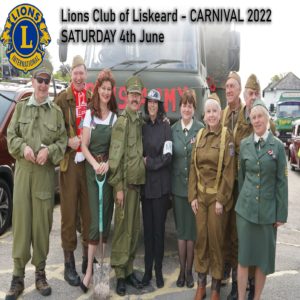 Lions Jubilee Bingo
31st May 7pm, Eliot House Hotel.
Eyes down at 8pm, doors open at 7pm.
There are lots of prizes including Generous Hampers for a Full House and additional prizes for lines.
Our bingo caller Alan Mawby will be looking to 'BLING it on' and make a RIGHT ROYAL occasion of it!
All ages are welcome but the cash call is for adults only. There is limited parking but good disabled access.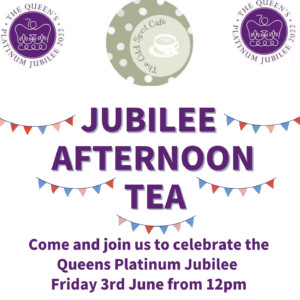 Jubilee Afternoon Tea
The Odd Spot Café in the Old Brewery, Liskeard from 12.00 on 3rd June to celebrate the Queen's Platinum Jubilee.
£7.50 per person to include sandwiches, a scone with jam and cream, and tea/coffee.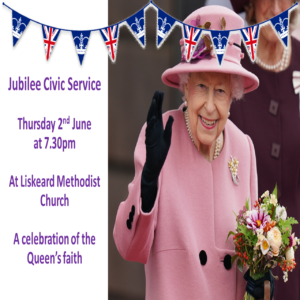 Jubilee Civic Service
A Celebration of the Queens Faith.
Thursday 2nd June, 7.30pm at the Methodist Church.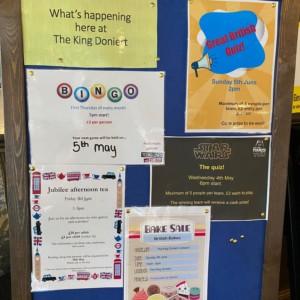 The King Doniert Wetherspoons, Liskeard
Jubilee Afternoon Tea Friday 3rd June 1-3pm
British Bake Sale Saturday 4th June 11am – 5pm
Great British Quiz Sunday 5th June 2pm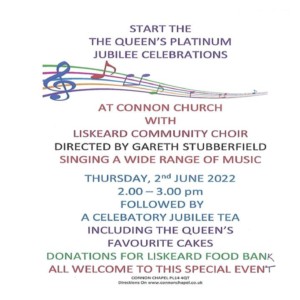 Jubilee Choir and Afternoon Tea
Liskeard Community Choir will perform a variety of music on 2nd June at 2-3pm followed by a Jubilee Afternoon Tea with the Queens favourite cakes!
Donations for Liskeard Foodbank.
All welcome to this special event at Connon Chapel, East Taphouse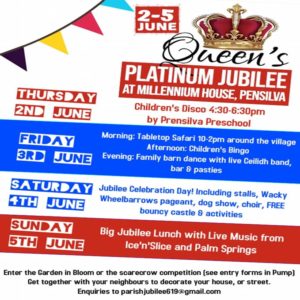 Pensilva Platinum Jubilee Events
Thursday 2nd June: Children's disco at Millennium House, 4.30-6.30pm.
Friday 3rd June:  Tabletop safari around the village 10-2pm, children's Bingo, Family Barn Dance and pasties in the evening.
Saturday 4th June:  Celebration Day with Stalls, refreshments, choir, dog show, bouncy Castle and more!
Sunday 5th June:  The Jubilee Big Lunch!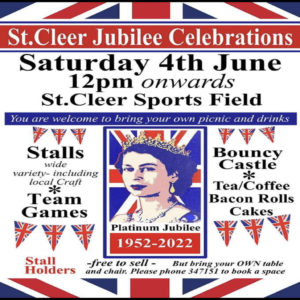 St Cleer Jubilee Celebration
12pm onwards at St Cleer Playing Field.
Wide variety of stalls including local crafts.
Team games and bouncy castle.  Refreshments and tea/coffee and cakes.
You are welcome to bring your own picnic.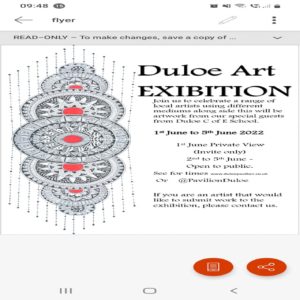 Duloe Jubilee Art Exhibition
Come and view some amazing art work by local artists at the Duloe Pavilion Café. From the 1st to the 5th of June.
If you are a local artist and would like to submit your own work please feel to contact us for further detail.
Exhibition open times
Wednesday 1st June, viewing by invitation only 7pm
Thursday 10am till 5pm
Friday 10am till 5pm
Saturday 10am till 5pm
Sunday 10am till 5pm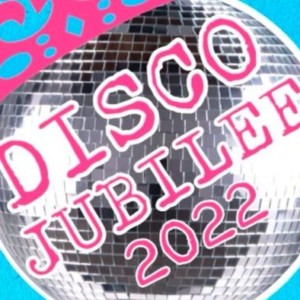 Jubilee Children's Disco
At Millennium House Pensilva hosted by Pensilva Preschool Committee
Thursday 2nd June.
4-6pm. DJ, Hot food by JP's, Hot & cold drinks, Sweet treats.
£3.50 a child under 1's free
Tickets available by PayPal committeesecretary@pensilvapreschool.org.uk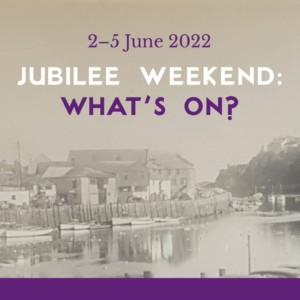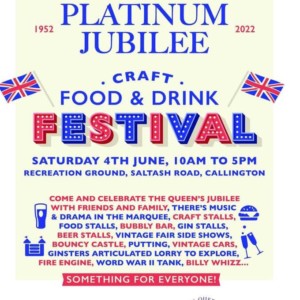 Callington Jubilee Carnival and Food and Drink Festival
Saturday 4th June will be a day of family entertainment catering for all ages.
Callington will be filled with colour as our Walking Carnival winds it's way through the town, leading back up to the main park where a feast of musical and dramatic entertainment will be happening. Classic Car's , a real tank and a Ginster's super size lorry will all be on show.
There will be food and drink stalls to tempt your taste buds including our famous Rotary Paella, Cornish pasties and Cream teas , plus a range of craft stalls. Children's entertainment includes a bouncy castle, fairground ride, portable putting and entertainer Billy Whizz.
Killigarth Manor Platinum Jubilee Celebration
.12-6pm Sunday 5th June
Everyone is welcome at Killigarth Manor to celebrate the Jubilee!
There will be a BBQ, cocktails, ice cream, outdoor games, face painting and live entertainment.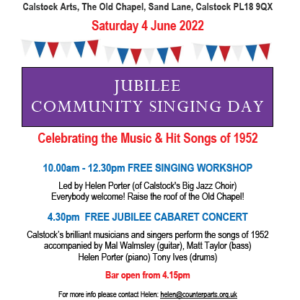 Jubilee Community Singing Day at Calstock Arts
Calstock Arts is thrilled to be hosting a free and open to all ages BIG COMMUNITY SINGING DAY on Saturday 4th June, as part of the Jubilee Bank Holiday weekend celebrations. The singing will be led by Helen Porter, director of Calstock's Big Jazz Choir.  4th June @ 10am: Jubilee Big Community Sing Session.  Pop in for a morning workshop with Helen and learn some of the very best songs of 1952. Revisiting the musical landscape of 1952 will be a really enjoyable way of commemorating the song-writers and performers of the day, and of the Queen and coronation itself. We hope very much you'll join in this uplifting day of community singing.  4th June @1630: Jubilee Big Community Sing Concert.  Join local musicians and singers in a showcase concert to celebrate the Jubilee weekend.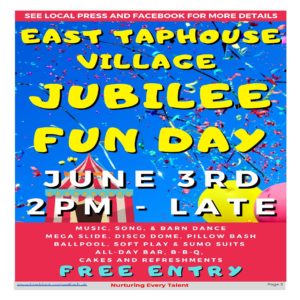 East Taphouse Jubilee Fun Day
Friday 3rd June from 2pm
Queen's Platinum Jubilee Celebration and village gathering and events in East Taphouse.
A free event provided jointly by The Community Hall and the St. Pinnock Band.
Loads to do during the day time – Inflatables (more and bigger!), Village Games, Cakes and Teas, Hog Roast, Pimms, Strawberries & Cream.
Then in the evening we hope to delight you all with a rutin'-tutin' Barn Dance. Loads of fun for everyone from 8pm until late.