Nadelik Lyskerrys – a Liskeard Cornish Christmas
Back in 2019 over 2000 people packed the streets for our Lights Up spectacular of lights and music, the culmination of a day of celebration around the town, and the start of the festive season which sees a fabulous display of Christmas lights and decorations in our lovely town.
But in 2020, thanks to Covid-19 things looked very different.
The town was decorated with Christmas lights as usual but unfortunately we were not able to have either a lantern procession or fireworks to celebrate the switching on of the lights.
Instead we asked the people of Liskeard to join together on Saturday 28th November at 6.30pm to celebrate on their doorsteps, to make their own lantern to display at home, or just shine a light to come together and brighten up the streets of the town.
We had a fantastic response to our lantern competition and the winners in each age category can be seen below:
Kana Nadelik, our annual Cornish singing sessions had to move online this year, but with the help of Rosie Fierek they were very successful and the final song can be seen below.
The song is Kana Kelyn Kelyn Oh (Sing Holly Holly Oh!), a traditional local carol collected in Callington in 1924 and now sung each year in Liskeard. The singers recorded themselves singing against a backing track which was then edited together by Kate McPherson.
Thanks to Feast, Cornwall Council, Arts Council England and Liskeard Town Council for the funding for this project.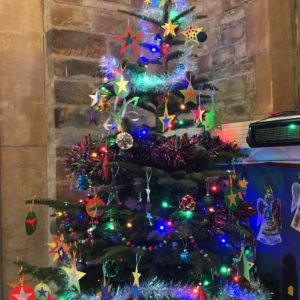 Come and see the beautifully decorated Christmas Trees at Liskeard Methodist Church's Annual Festival, this year celebrating those organisations and businesses who have helped us during the pandemic. Open 10-2 from December 12th until Christmas Eve.
Each tree represents an organization within our town who have chosen a Christmas Carol or song as their theme for this year. You can view the story of joy and hope behind each tree and its decoration online at www.secornwallmethodist.com during December or visit us in person where social distancing measures will be in place.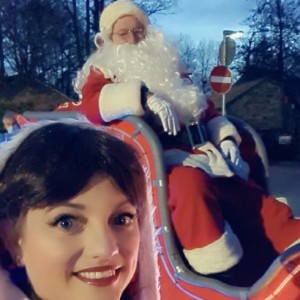 Santa will be back touring Liskeard again this Saturday 19th December. However, he will be undertaking a shorter route as he is still rather tired after last week's epic journey.
Thank you to everyone who came out to see him. He will be joined by the Princess again and we will be posting his exact position on Facebook as he goes along and on Liskeard FM (87.7FM).
Click here for a map of the route
PLEASE NOTE THERE IS A YELLOW WEATHER WARNING CURRENTLY FOR SATURDAY, AND IF IT TOO BAD HE WILL BE STAYING AT HOME BY THE FIRE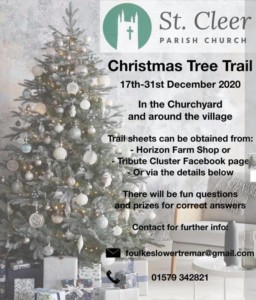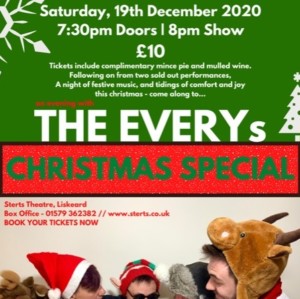 The Everys are a local family of 5 musicians who are all very much involved with Sterts Theatre and who love to make music both together and individually. Stewart, Paula, Sam, Polly and Lillie are looking forward to entertaining you this Christmas.
The concert is 19th December, 7.30pm for an 8pm start, in the main theatre at Sterts.
Tickets £10.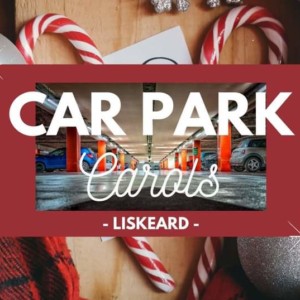 Come and join in the festive cheer at the drive in Carol Service at Morrisons car park, Liskeard, organised by St Martins Church on Sunday 20th December, at 7pm.
This event is now SOLD OUT
Welcome again to our traditional Candlelit Carol Concert in Sterts Theatre. Dress up warm and celebrate the start of Christmas with a seasonal blend of words and music and help raise funds for charity, too. There will be mulled wine and mince pies available for you to enjoy.
21st December at 7pm.  Tickets cost £8 Adults and £6 children.
This event is now SOLD OUT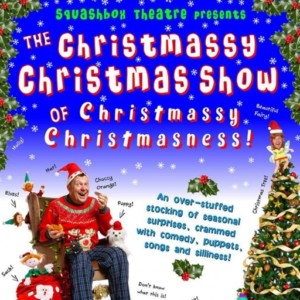 The Christmassy Christmas Show of Christmassy Christmasness! is an over-stuffed stocking of seasonal surprises crammed with puppets, songs, quizzes and comedy, and over-flowing with crazy characters, silly slapstick, tall tales and fantastic facts – all presented in that unique Squashbox style!
Sterts Theatre, 22nd December. 2 performances: 12pm and 2pm.  Tickets £6 each.
This event is now SOLD OUT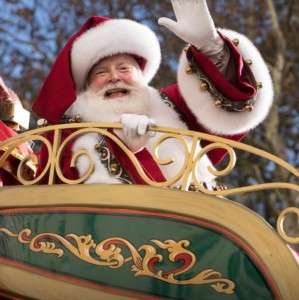 Meet Father Christmas on 24th December at St Martins Church between 10am and 12 noon.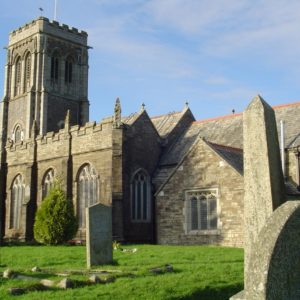 Christmas Day Church Services
10.15am – Liskeard Methodist Church Christmas Day Celebration Service with Rev Chloe Jones
10.30am – St Martin's Christmas Day Service