Nadelik Lyskerrys – a Liskeard Cornish Christmas
Liskeard will be celebrating Christmas in a traditional Cornish way this year, with extra decorations, a very special Lights Up including a Christmas party, a wild hunt, a children's trail around town and a chance for everyone to learn a bit of Cornish.
We shall be working with Golden Tree, the company that brought the Man Engine to Liskeard in July 2016. We want the whole town to be involved – preparations have started already but it's not too late to join in:
Come and learn some simple Cornish words and songs
The Albion Pub every Monday from 29th October to 26th November at 7pm.
7 pm – Keskows Kernewek – fun and informal Cornish language workshop for beginners and learners.
8 pm – Kana Nadelik – Cornish language Christmas songs
One and all welcome!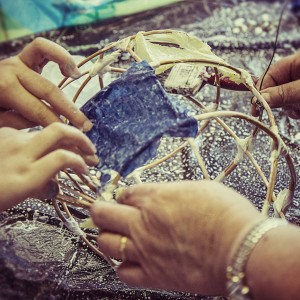 Lantern Making Workshops
Liskerrett Community Centre – Fridays 9 am-12 noon, on the 9th, 16th and 23rd November.
Make a small or large lantern on a them of  'Close Encounters of the Illuminated Kind' to take part in Liskeard Lights Up Parade.
All welcome
Cornish Guise Dance Workshops
Liskerrett Community Centre —Saturdays 10.30 am – 12.30 pm until 24th November
A weekly series of workshops to learn a selection of traditional Cornish step and set dances for "guise dancing" during the Nadelik Lyskerrys weekend and beyond..
Taught from scratch each week, and suitable for any level; scoots/taps/clogs/hard shoes recommended to 'make one hell of a clatter'. No partner required.
Friday 30th November
Cornish Christmas Trains: Tro Tren There's a choice of festive fun on the Looe Valley railway branch line. In the afternoon, children and their families can meet Santa, speak some Cornish and receive a gift. In the evening, adults can join in a festive Cornish sing-song, enjoy mulled wine and mince pies and a stopover at The Globe, Looe before heading back
Santa's Train: Leaves Liskeard 16.41 returns 17.15
Meet Santa on the train with free gift for each child!
Singers Train: Leaves Liskeard 18.06 returns 19.52
Enjoy Cornish singing with a stopover at The Globe Inn, Looe
Return Fare: £4.40 adult/£2.20 child/under 5s go free
Booking essential to ensure a space. Contact: rebecca.catterall@plymouth.ac.uk
Saturday 1st December 
Thanks to Liskeard Town Council, Liskeard Chamber of Commerce and Cornwall County Council there will be free parking in Liskeard on Saturday 1st December and for the remaining Saturdays in December too.
11 am- 1 pm: Family Christmas Trail: Lergh Nadelik Teylu starting at Stuart House, follow a map and clues to hunt the white stag 'helghi di an karow gwynn' around the town. Answer simple questions in Cornish and collect stickers, then enjoy a celebratory 'cakey tea' with the Mayor at the Public Hall
5.30 pm: Lights Up Parade and Fireworks: Keskerdh Lugharn Ha Tanweyth  leaving from the Cattle Market Car Park, the lantern parade- Close Encounters of the Illuminated Kind- weaves its way through town via Pike Street and Fore Street. You can watch the firework finale from outside Webbs House followed by;
The Wild Hunt: An Helgh Gwyls an expedition around the town pubs with Dando and his Dogs, singing in the Cornish language. All welcome.
7pm: Party: Gool Nadelik Free Yuletide party in the Public Hall. Music from the Cornish Groove Collective and Illow Splann. Cornish Guise dancing and a performance of Dando and his Dogs. Food supplied by the Real Junk Food Project and there will be a cash bar.
There is no need to book or register in advance for any of the events, just turn up! One and all welcome!