Nadelik Lyskerrys – a Liskeard Cornish Christmas
Liskeard will be celebrating Christmas in a traditional Cornish way this year, with extra decorations, a very special Lights Up including a Christmas feast, a wild hunt, a children's trail around town and a chance for everyone to learn a bit of Cornish.
We shall be working with Golden Tree, the company that brought the Man Engine to Liskeard in July 2016. We want the whole town to be involved – preparations have started already but it's not too late to join in: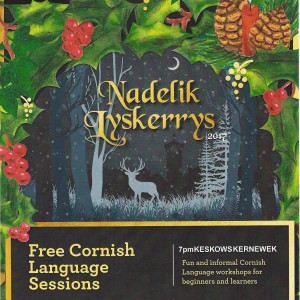 Come and learn some simple Cornish words and songs
The Barley Sheaf Function Room, Church Street, Liskeard.
Each Tuesday starting from 31st October, from 7-9 pm.
7 pm – Keskows Kernewek – fun and informal Cornish language workshop for beginners and learners.
8 pm – Kana Nadelik – Cornish language Christmas songs
One and all welcome!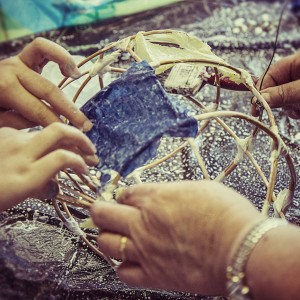 Lantern Making Workshops
Liskerrett Community Centre – Saturdays 9 am-12 noon, on the 4th, 11th and 25th November.
Make a small or large lantern on a Cornish theme to take part in Liskeard Lights Up Parade.
All welcome
Cornish Guise Dance Workshops
Liskeard Public Hall—Saturdays 10.30 am – 12.30 pm
14th, 21st and 28th October, 4th,11th,18th and 25th November,
A weekly series of workshops to learn a selection of traditional Cornish step and set dances for "guise dancing" during the Nadelik Lyskerrys weekend and beyond..
Taught from scratch each week, and suitable for any level; scoots/taps/clogs/hard shoes recommended to 'make one hell of a clatter'. No partner required.
Friday 1st December
Festive Vintage Fayre at the Public Hall 4-8 pm. Liskeard Vintage Fayre is an annual event celebrating all things vintage. Find unusual Christmas gifts & enjoy an evening of stress-free shopping.
The Public Hall will see the first performance of the Helgh Gwylls: Wild Hunt at 8 pm which will then tour public houses and restaurants around Liskeard finishing the evening in the Barley Sheaf. This is a carol singing expedition through Cornish folklore with Dando's Dogs (for over 18s only).
Saturday 2nd December 
Thanks to Liskeard Town Council and Cornwall County Council there will be free parking in Liskeard on Saturday 2nd December as well as on the 9th, 16th and 23rd.
Our Lady and St Neot Church, West Street, Liskeard PL14 will be open all day from 9 am. Members of the parish will be there to welcome visitors and copies of the Lord's Prayer (Our Father), translated into Cornish/Kernewek will be available for all, while stocks last. Tea and coffee will also be available in church, together with the opportunity to buy Christian Advent calendars, booklets and other items to reflect the true Christian meaning of Christmas. In addition to the merchandise, the church will provide a tranquil place for visitors to come for quiet reflection and prayer, away from the hurly burly of Christmas shopping.
You can also visit the Methodist Church Christmas Tree Festival from 10 am until 12.30 pm.
Prag Na? Pop Up Kernewegva: A day of Cornish Language fun and games for Kernewegoryon of all abilities. Quimperle Room in Liskeard Public Hall, 10.30am. Tickets £5. Book now at: https://pragna.eventbrite.com
From 1 pm at the Public Hall there will be a Lergh Teylu Nadelik: Family Christmas Trail around Liskeard,  solving clues and collecting stamps, finishing at the Public Hall for a Cornish Cakey Tea.
The Liskeard Lions and Father Christmas will also be in the town during the day. Keep an eye out for Santas on Motorbikes who are raising money for Children's Hospice South West and will be passing through Liskeard around 1.45 pm.
At 5.30 pm the annual Lyskerrys A Enow Keskerdh Lugern: Lights Up Procession leaves the Cattle Market Car Park to process around the town centre finishing on The Parade for the official turning on of the Christmas lights and a celebratory firework display. The parade this year will have a Cornish Christmas theme.
From 7 pm there will be Gool Nadelik: Cornish Christmas Fair in Liskeard Public Hall. Come and join the feast and eat, drink and be merry with Cornish language music and entertainment including music from Skillywidden and more. Admission is £5 and there will be the opportunity to purchase food and drink from local businesses, come and join the party! Tickets can be booked in advance at https://goolnadelik.eventbrite.com/
There is no need to book or register in advance for any of the events, just turn up! One and all welcome!