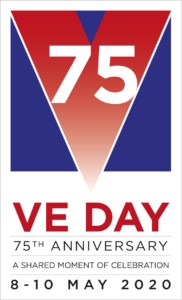 It is with great sadness that we have had to postpone the public events planned to commemorate VE Day 75 in May due to the current Coronavirus issues.
Our priority must always be to protect our communities, and in the current situation it would be unwise to continue with public events
We hope to commemorate VE 75 on the anniversary of VJ 75 in August, but will review nearer the time
Thank you for all your support
The Mayor, Councillor Rachel Brooks, and Councillor Simon Cassidy, Chair of Communications & Engagement Committee
Liskeard Town Council
When VE Day dawns on 8th May 2020 it will be 75 years since the guns fell silent at the end of the war in Europe. Years of carnage and destruction had come to an end and millions of people took to the streets and pubs to celebrate peace, mourn their loved – ones and to hope for the future, but not forgetting those still in conflict until 15th August when it was announced that Japan had surrendered unconditionally to the Allies, effectively ending World War II.
To commemorate this important time the whole country will be taking part in VE Day 75, a three-day international celebration that will take place from 8th May to 10th May 2020.
It will be an opportunity for us all to remember the enormous sacrifices that were made at home and abroad and to joyously celebrate as people did 75 years ago, the arrival of peace in Europe.
Events in Liskeard
Thursday 7 May
Country Market moving to Thursday, in main Public Hall, wartime theme
Friday 8 May
Morning – War Graves Ceremony and placing of poppy crosses and wreath at War Memorial
2.55pm The Last Post & Reveille. Bugler at Wetherspoons balcony
3pm The Battle's O'er. Piper at Wetherspoons balcony
3pm – Nation's Toast – The British Legion Club and Liskeard's public houses
Street party with entertainment at the Cattle Market Car Park events space (alternative venue if wet Methodist Church Hall) 3.05 – 5pm. Please bring your own food to share if you can.  There will be some war-time themed food from the Real Junk Food Project
6.55pm – Cry for Peace – The Town Crier on The Parade, outside Webbs House
7pm – Ringing out for Peace – St Martin's Church bells
Variety Show in the Public Hall, 7.30pm
Open garden at Penmilder, Lodge Hill, with war time theme and music – 11am – 4.30pm £6 in aid of NGS
Saturday 9 May
Liskeard Traders events – details to be confirmed
10am-1pm Local Food Market with 1940s theme at the Liskerrett Centre
8pm 1940's music night at the British Legion Club open to all
Sunday 10 May
Some Church services of celebration and commemoration
Drumhead Service, now 2pm (tbc) on The Parade, outside Webbs House (wet weather alternative Methodist Church Hall tbc)
Reading of "A Tribute to the Millions". Playing of Last Post and Reveille
Open garden at Penmilder, Lodge Hill, with war time theme and music – 11am – 4.30pm £5 in aid of Cornwall Hospice Care