Carnglaze Caverns
The Rum Store; live music and events venue in Cornwall
During the Second World War the Royal Navy used the first chamber at Carnglaze to store its supply of rum for its base at Devonport in Plymouth. Local folklore has it that you could smell the rum at the junction with the A38 about 1 mile away! In December 2002 chamber was converted into an auditorium with seating for 400.
The slate walls and roof form a stunning backdrop for events, making this a unique performance venue. Due to the shape and height of the cavern, the acoustics are outstanding and have been acclaimed by many of the local and international artists who have performed here. There is a fully licensed bar open on concert nights, and a catering unit in the gardens serving snack food at most events.
Totally unique music, concert and performance venue – underground in Cornwall!
A variety of concerts and events are planned throughout the year offering a selection of musical presentations with performers from across the musical spectrum. There are also twice yearly Crystals and Crafts Shows and an annual fireworks display. Concert goers come from all over the country and even from as far as Japan!
For your information before coming to The Rum Store:
As Carnglaze is a Tourist Attraction during the day we close the site to the public at 5pm (8pm August)
The gates will then open an hour before the performance is due to start. Please see your tickets for the performance time.
Your pre-ordered tickets will arrive by post and have a compliment slip with a map and site information.
If it is too late to post the tickets to you they may be collected from the Ticket Office on site before the performance.
Seating is unreserved so it is a case of first come first served!
If you need Low Mobility Parking please inform us at the time of booking as spaces are limited and must be pre-booked.
Please remember this IS a cavern and the temperature remains at 10 deg C all year round, so warm clothing and a cushion are recommended.
We are a rural site so strong shoes and a small torch are also recommended.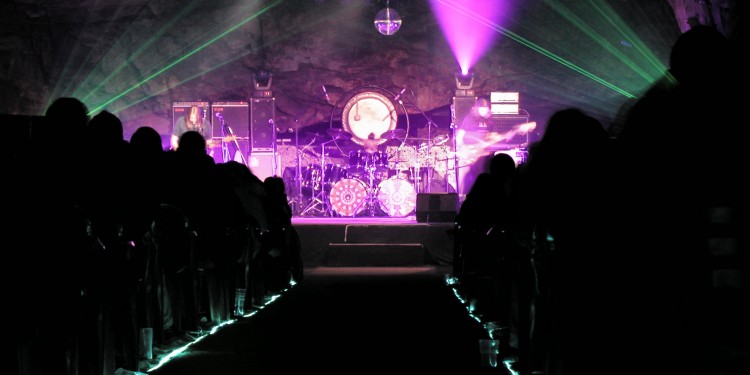 Upcoming Events
There were no results found.