Boconnoc Music Award Concert
August 1 @ 6:30 pm

-

9:30 pm

|

£22.50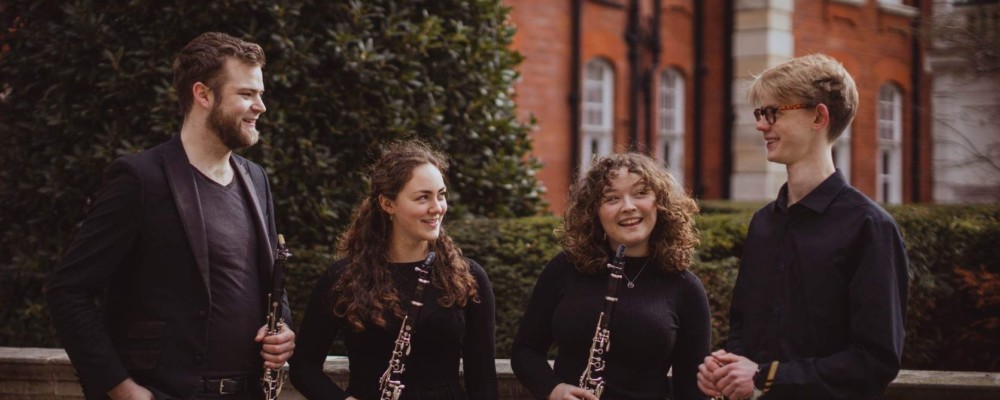 This August, we are delighted to be hosting the award-winning, Hyde Clarinet Quartet who are an exciting clarinet group formed of current students and alumni from the Royal College of Music.
Each year, we give recognition to the best group from the Royal College of Music in celebration of the Boconnoc Music Award. The annual award was established by the late Anthony Fortescue and his wife Elizabeth Fortescue, owners of Boconnoc in 2012. The prize constitutes a week's residency on the estate, providing a valuable opportunity for the musicians to work intensively on repertoire and technique in a private, inspiring and exclusive environment.
This year, our winners, The Hyde Clarinet Quartet, will be joining us from 31 July – 04 August and will be performing a fabulous concert in Boconnoc House on Tuesday 1 August. There will be a second performance in Boconnoc Church on Thursday 3 August. ( more details to be announced soon )
The Hyde Clarinet Quartet are known for their acclaimed performances of classical music. They have also recently commissioned two new works of art, which they are excited to premier and add to the ever-growing list of clarinet quartet repertoire.
Join us for an enjoyable evening in Boconnoc House as we have the pleasure of hearing the Hyde Clarinet Quartet, who are dedicated to performing new works, as well as exploring the diversity of the clarinet.
Standard price: £22.50
Entry with a glass of prosecco: £27.50
Free entry for anyone in full time education at the Royal College of Music.