Cornish Dance Workshop – Wonderful Wednesdays
October 16, 2019 @ 7:00 pm

-

9:00 pm
Event Navigation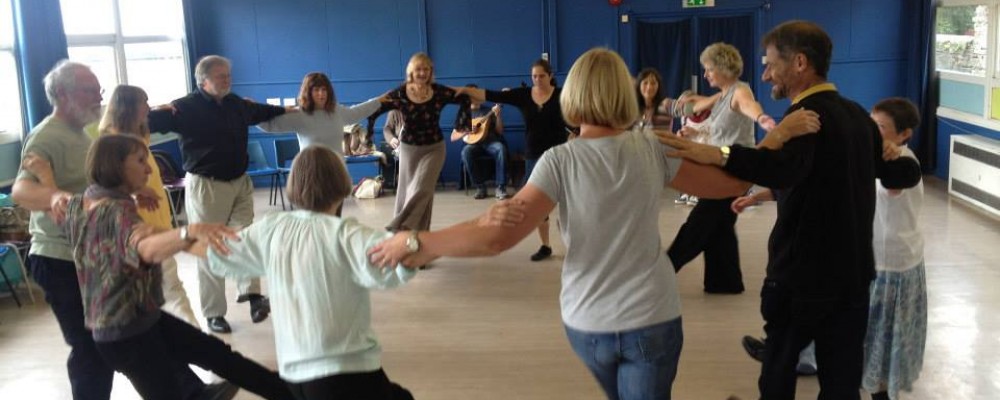 Join us in the Liskerrett Centre for a spot of footstompin' fun Cornish dancing with LIVE music from our community musicians and occasional guests! Wednesday nights, 7-9pm.
DANCERS!
An opportunity to learn or refresh a selection of Cornish Dances with . . .
a furry dance or two
a handful of reels : Newlyn, Three Hand, Four Hand, Six Hand
a few challenges: Mrs Parkyn's Jig, Boscastle Breakdown, Mesk yn Merdh, An Scubel, Lattapuch, Corwedhen, Turkey Rhubarb, Gwari Pymp (a game of 5's)
an industrial revolution or two: Tin Stamp, Cock-in-Britches, Fish, Tin & Copper, Millers Dance
All dances taught from scratch, and adapted to suit the dancers and numbers. Suitable for all levels.
Bring scoots/clogs/taps/hard shoes if you have them for step dancing in the second half.
MUSICIANS!
A chance to play Cornish folk music for dancing: our dance tunes over the series will include:
Awel Vase (Oll A Dro)
Boscastle Breakdown
Begone From My Window (Kabm Dew)
Bouncing Sam Jago
Breannick Furry
Cock in Britches
Fer Lyskerrys
Fish, Tin And Copper
Hernen Widn (Mrs Parkyn's Jig)
Keel Row/Cats Got The Measles (Cornish Mating Dance)
King of Sweden
Mind the Nettles
Neidges Awarra / Oll an Gerriow / Coer Elath (Kabm Pymp)
Newlyn Reel
Perranzabuloe (Miller's Dance)
Plethan A Beswar (4 Hand Reel)
Plethen A Dry (3 Hand Reel)
Polka Covath (Corwedhen)
Sunny Corner (6 Hand Reel)
Tregajorran Furry
Tin Stamp
Tom Bawcock's Eve / Truro Agricultural Show / Breakfast at Bryony's (Old Hand-in-Hand)
Turkey Rhubarb
We Be
You'll find the dots for some of the tunes in FOOCH!, Racca, or on an-daras.com..
Magic Hat PAYF (pay as you feel) collection – (a fiver or two would be nice)
http://scootskernow.blogspot.com/p/cornish-dancing-diary.html