Ehealth Workshop
September 5, 2017 @ 12:30 pm
Event Navigation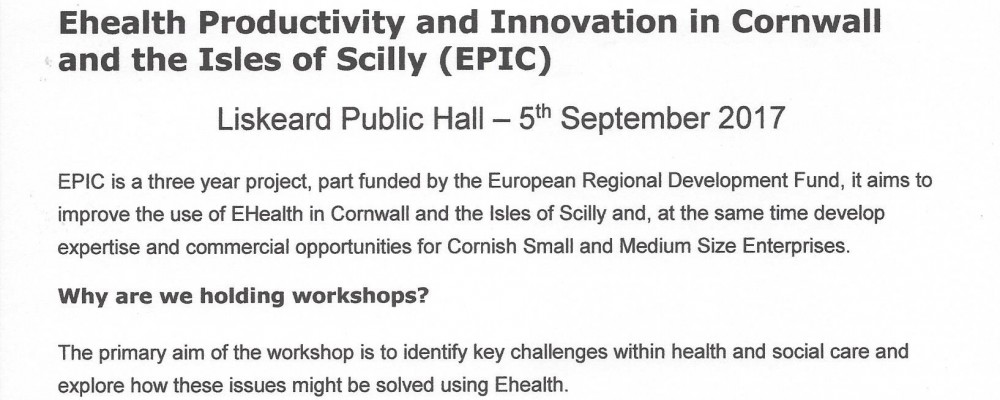 Ehealth Productivity and Innovation in Cornwall and the Isles of Scilly (EPIC)
EPIC is a three year project, part funded by the European Regional Development Fund, it aims to improve the use of EHealth in Cornwall and the Isles of Scilly and, at the same time develop expertise and commercial opportunities for Cornish Small and Medium Size Enterprises.
Why are we holding workshops?
The primary aim of the workshop is to identify key challenges within health and social care and explore how these issues might be solved using Ehealth.
Workshops are open to all healthcare professionals, students (health, technology, robotics), carers and patients.
What does a workshop involve?
Workshops will start at 12:30 with a FREE LUNCH followed by an introduction to the EPIC project and expected outcomes.
There will be demonstrations of different technologies on the day as well as experts in robotics, behaviour change, healthcare commissioning and computer-human interaction who will be on hand to help showcase what is possible.
Groups will work collaboratively to formulate ideas and solutions which have the overall aim of developing and implementing better uses of the internet apps, and/or robotics within the health and social care sector.
What happens after the workshop?
Ideas emerging from the workshop will be taken forward. This will include exploring potential collaborations between the group members and Cornish SMEs, in order to further develop their ideas. These projects will have the opportunity to bid into our £600,000 challenge fund to help advance their project ideas.
For more information or to ask a question about this event please contact Katie Edwards: katie.edwards@plymouth.ac.uk
www.plymouth.ac.uk/research/epic