Family Fun Day – Liskerrett Community Centre
Event Navigation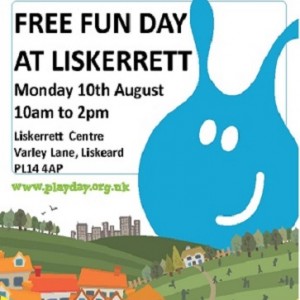 Lots of activities for all ages including
a bouncy castle,
face painting,
craft activities and games,
an animation workshop,
raffle,
open art studios,
stalls,
refreshments,
meet our MAZED characters,
story telling and music in the amphitheatre in the garden.
Free entry.
All welcome
This event is supported by FEAST
This year Liskerrett Community Centre is combining a celebration of the National Day For Play with a storytelling theme. Linking to the stories from South East Cornwall that have been collected by the MAZED project, the day will be full of activities, games and workshops with a broad storytelling theme.
As well as screening the MAZED animations throughout the day, there will be the opportunity to join a stop-go animation workshop led by Cornish artist Lizzie Black where you can learn how to create your own stories and characters and bring them to life.
For our younger visitors there will be an under fives' play area. There will also be a bouncy castle, face painting, storytelling, and a fun workshop to make MAZED finger puppets. And for older visitors there will plenty of opportunities to get creative with an art wall and pavement art.
If you fancy something more active have a go at the skipping or try your luck on the treasure hunt. There will also be various stalls, table top sales and activities for all ages.
Throughout the day there will be a full programme of music and storytelling from our amphitheatre in the garden including renowned local storytellers Mike O'Connor and Barbara Griggs, supporting members of the Liskeard Storytelling Café who meet each month at Liskerrett, and Nina Hills will be appearing with the much loved puppet Bill Chubb. Music will be provided by local young musicians.
The Hub Café will be open, providing lunch and refreshments to cool you down or warm you up, depending on the weather, and you may even treat yourself and enjoy a 'proper cakey tea'. And our IT suite will also be open all day. The event is supported by funding from FEAST, a programme to make great art happen across Cornwall. Investment for FEAST comes from Arts Council England and Cornwall Council. For further details contact 01579 340307.