Icarus- Southpaw Dance Co
August 17, 2019 @ 2:00 pm
Event Navigation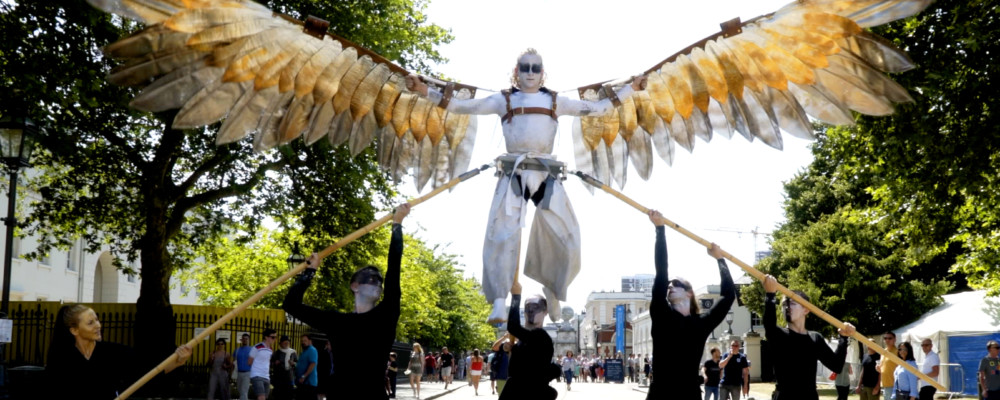 Southpaw Dance Co present Icarus at Liskeard Ploughman's Fair on Saturday August 17th at 2pm and 4pm.
Award-Winning Southpaw Dance Company present the story of Icarus. Featuring an impressively mythic set of wings, blistering contact work and acrobatic physicality, this brand new outdoor work is a dance interpretation of the classic myth of the boy who flew too close to the sun. Told through Southpaw's distinctive mix of intense physicality and narrative, puppeteering and lifting, and a new lifting harness that allows Icarus to soar 16 feet in the air, watch Icarus fly this Summer.
There will also be a "walkabout" with the dancers and Icarus on Fore Street at 12.30/1ish, for about 20 mins, after which performers will walk back to the site to prepare for their first show.
It's free but the dance company will be shaking buckets…Pay What You Can process (very simple).
Don't miss it!
Reviews:
"Southpaw Company's reputation grows with each project. They make contemporary
dance not only accessible but create a sense of ownership in their audiences and
performers."
"Southpaw Company blend professional and community dancers with such passion and
energy, that it feels like one team. It really is something special. Southpaw friends are
friends for life!!"