Joe White Invitational XI vs Callington 1st XI Fundraiser
Event Navigation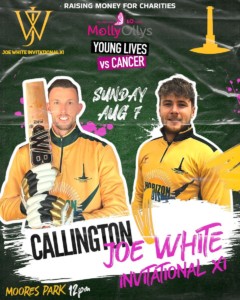 Hi everyone, it's Joe White here.
A few weeks ago my 15 year old brother in-law Barney was diagnosed with a rare liver cancer. He is being treated at Bristol Children's Hospital and Derriford.
We are raising money for the two charities that have been supporting him and we have already smashed our £500 target but we cannot stop there, so I'm looking to raise even more!
As a club we are going to host a Joe White Invitational XI vs Callington 1st XI on Sunday, August 7th at Moores Park from midday, where we will be looking to raise as much as we can!
If you would like to donate to the just giving page this is the link.
I hope to see as many of you there as possible!