LostFest
Event Navigation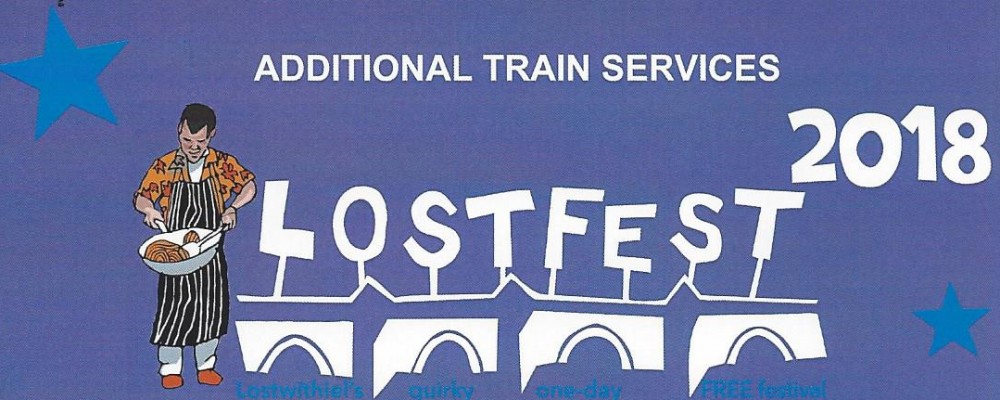 Lostwithiel's quirky one day festival!
LostFest will be chock-a-block with stalls selling arts, crafts, antiques and lots of other goodies. Local UK-based artists and artisans are supported, and you can find several stalls holding demonstrations and workshops. And don't forget the fantastic food stalls, selling delicious festival food from all corners of the world. The stalls open around 10am.
LostFest is full of music and dance! From samba to Morris dancing, barbershop quartets to pop, there will be entertainment in all venues and on every street corner to keep toes tapping. There will be special events and activities, and the museum will be open if you are interested in learning more about the history of the town.
Of course there will be plenty going to keep the children entertained – on the 'beach' beside the river there will be face painting, balloon sculpture and stalls plus a craft tent with free arts and crafts activities, music and dance. On King George V field there will be an inflatable assault course and soft play/ball pool area so the little ones can let off steam.
Festivities carry on into the evening with MorZim who will be on The Parade main stage at 5.30pm, a music-veteran four piece with a passion to play new-wave 70's loud and proud in a way that invites all to join in and dance their socks off. Then from about 7pm it's the turn of the Bonetired who are the new face and sound of Folk Rock playing haunting melodies with originality in their composition.
If you can possibly avoid it, don't come by car, as the main shopping street, Fore Street, will be closed all day and parking in Lostwithiel itself will not be easy. If you do, make sure you use the free Park & Ride scheme on the road to Lerryn which is signposted from the A390 or the new Park & Walk at the top of Bodmin Hill (NB it's about a mile up a steep hill, so only for the very energetic!). There is a railway station right in the middle of town and several more trains than usual will be stopping at Lostwithiel especially for us!
A free festival sponsored by Skinner's Brewery and Duchy of Cornwall Nursery but counting on your support in giving donations to an essential local charity FLEET Front Line Emergency Equipment Trust.
Find out much more information on the LOSTFEST website www.lostfest.co.uk