South East Cornwall Walking Festival – Looe
September 16, 2017

-

September 23, 2017
Event Navigation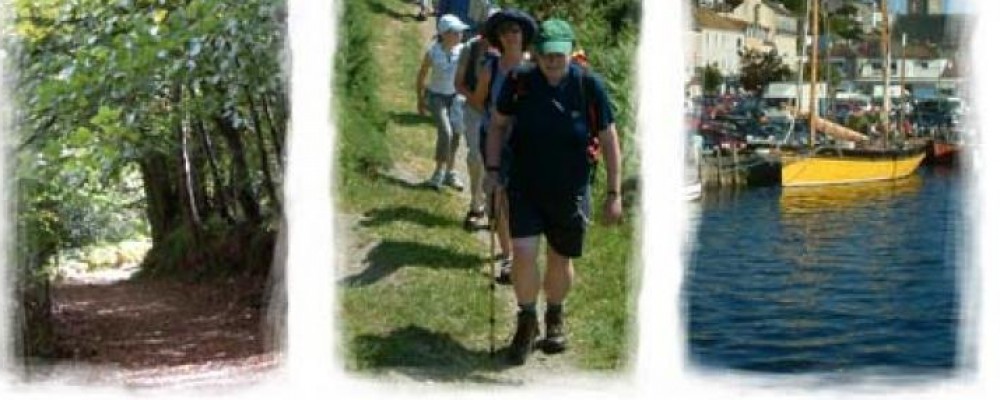 Now in its 17th year, the South East Cornwall Walking Festival celebrates the wonderful countryside in and around south east Cornwall. Join local guides who know the area inside out, who will lead you to hidden viewpoints, deserted beaches and picturesque villages.
Saturday 16th September – Up the hill to fetch a pint of..
Start: Sandplace Station 10.40 (coincides with train from Looe and No 73 bus from Liskeard)
Starting the festival off with a walk up the river then through the woods and the orchards to the Duloe Beer & Cider Festival. The walk will take about one and a half hours, depending on your thirst..
Once at the festival you are free to imbibe and leave when ready, there are busses back to Looe or Liskeard.
Sunday 17th September – A Quethiock Quest
Start: T.B.C
We wanted to lead a walk somewhere different this year, in a part of South East Cornwall we have never explored before. The parish of Quethiock is one of those places few people go to unless they live there, or are lost. So, we intend to go there and not get lost and hopefully learn something about a traditional farming parish. More details when we have finalised things…
Monday 18th September – Looe Island History Walk & Talk
Sadly this has been booked up for ages…. Hoping to do another one next year..
Antony Passage Walk
Start: 10.30am, St Stephens Church, Saltash,  (SX417584) Walk lasts approx two hours.
Join Saltash Walk & Talk Group for a gentle stroll down along this fascinating creek, part of the Forder Conservation Area. Meet. Walk alongside Forder Lake from Forder village to Antony Passage, up steps through woods and fields to Trematon Castle. One steep downhill at start, some hills with an alternative to St. Stephens Hill on the return.
Lostwithiel Town Walk
Start: Lostwithiel Community Centre (SX105599) at 11:00 am. Walk is about 90 minutes. Cost £3.50 per person.
Join the Lostwithiel Museum Guides for a fascinating walk around the former capital of Cornwall.
Tuesday 19th – T.B.C
Wednesday 20th – An Introduction to Bodmin Moor
Start: 10.30am Heritage Centre Carpark Minions.(SX263713)  Walk lasts approx two hours.
Join the Tamar Valley Walk & Talk group for an easy walk along moorland paths from the village of Minions.  A great introduction to Bodmin Moor if you don't know the area.
Thursday 21st – The Great Looe Guided Pub Crawl
Start: The Rose Garden, Fore St, East Looe, 7.30pm
Back by popular demand! An evening walk around Looe looking at the role the various pubs, inns and bars have played in the town's history.
Friday 22nd – Rediscovering a Parish
Start: T.B.C
The parish of Talland no longer exists, though the church sits proud on the coast between Looe and Polperro. Join festival organiser Mark Camp to explore the surrounding countryside and coastline, much loved by smugglers in the past. Full details once they are finalised.
Saturday 23rd – FORAGING with Andy Pearson
Start:  St. Stephens Church, Saltash  1.30pm- 3.30pm (SX417584)
Join the friends of Churchtown Farm Community Nature Reserve for a walk looking for edible plants. A fun afternoon suitable for families. Please bring a mug and a spoon to enjoy soup cooked on the foreshore.
Wear suitable clothes and footwear. Any queries contact : Mary Langworth on 01752 843852 or Bob Austin on 01752 844666
Caradon Explorer
Start: 10.30am, Tokenbury Corner, on the B3254 between Liskeard and Upton Cross.  (SX280696)
We finish the festival with a circular walk of 7/8 miles along disused mineral railways, footpaths and lanes visiting some of the industrial heritage of the mining and quarrying activity of South East Bodmin Moor. Leader will be Brian Oldham of Liskeard's Walkers are Welcome and volunteer at Liskeard & District Museum. Sturdy footwear and a packed lunch are recommended.
A free event, but donations to the Museum's acquisition fund would be very welcome.
Most walks are free. However walks leaders may ask for a donation (suggested £4/£5) to go towards costs of putting the festival on or towards a charity of their choice.
The festival receives no funding and all walks leaders volunteer their time.