The Countrymen – Songs of Hope Tour
April 23 @ 7:30 pm
|
£12
Event Navigation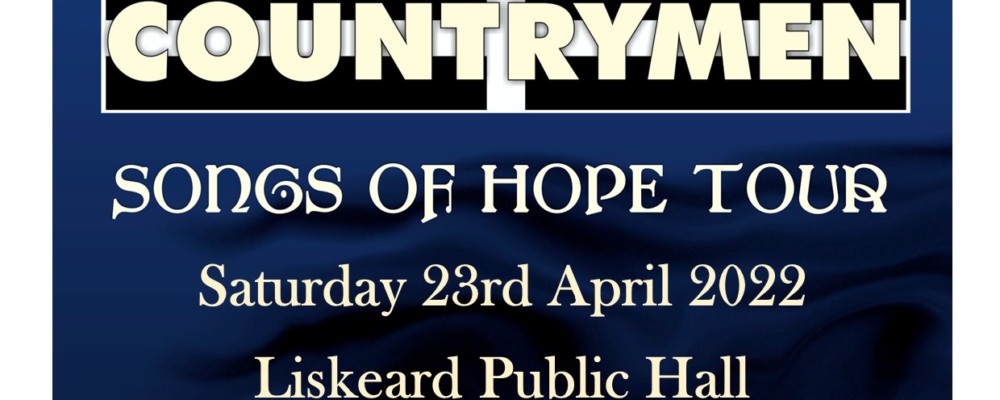 Now in their fifth year, the Countrymen have been becoming increasingly popular across both Devon & Cornwall with appearances on both radio and TV and numerous festival appearances including The Falmouth International Sea Shanty Festival, The Rock Oyster Festival, Falmouth Week, Bridport Folk Festival, Little Orchard Festival and Looe Saves The Day.
2022 will see the band take on a third concert tour of both Cornwall and Devon entitled "Songs of Hope" which the band feels is an appropriate name for the times we currently live in.
 "If you get the chance to see these guys (The Countrymen) in concert then take it, you will not be disappointed"
Harry Glasson
The band was formed from an Open Mic Night at their local, The Countryman Inn near Launceston, which is where the band's name originates.  They soon found a mutual love of singing in harmony and almost accidentally developed a strong reputation for an emphasis on Cornishness in the repertoire.
"Saw these guys on Saturday in the main street (Falmouth Shanty Festival). Great singing. Great banter".                                                                                                               Steve Prophet
In addition to offering quality live entertainment on stage, they have also been busy in the recording studio and have released three online EPs to date, Cornish Lads Vol.1, 2 and not unsurprisingly, Cornish Lads Vol.3.                                                                                                                  
They also released their debut CD album, "Trees On The Hill" a few years ago and have recently  released their long-awaited second album, "The River Rolls On".
"Fantastic band! Great harmonies and mix of music. Don't miss them!"              Guy McKensie
"Absolutely love this band. Saw them for the first time at the St Agnes Lifeboat celebration in June and was blown away by the musicianship and beautiful harmonies. At times they were very exclusive and original and at other times derivative but still brilliant. They reminded me at times of Crosby, Stills, Nash and Young and I would love to see them attempt "Teach Your Children" but their take on some traditional Cornish songs was uplifting and poignant at the same time. A wonderful night's entertainment. I very much look forward to seeing them again (and again). Thanks guys, much appreciated"                                                                                                    David Simons
Social media
Facebook:        www.facebook.com/countrymenband
Instagram:        @thecountrymenbandcornwall
Twitter:             @thecountrymenband
Hashtags:         #cornishmusic #cornishfolk  #thecountrymen #songsofhope
Video Clips
https://www.youtube.com/watch?v=pzsV-CbV3FE
https://www.youtube.com/watch?v=wOo_Nz5ShiY