The Stowes
October 15 @ 8:00 pm
|
£5
Event Navigation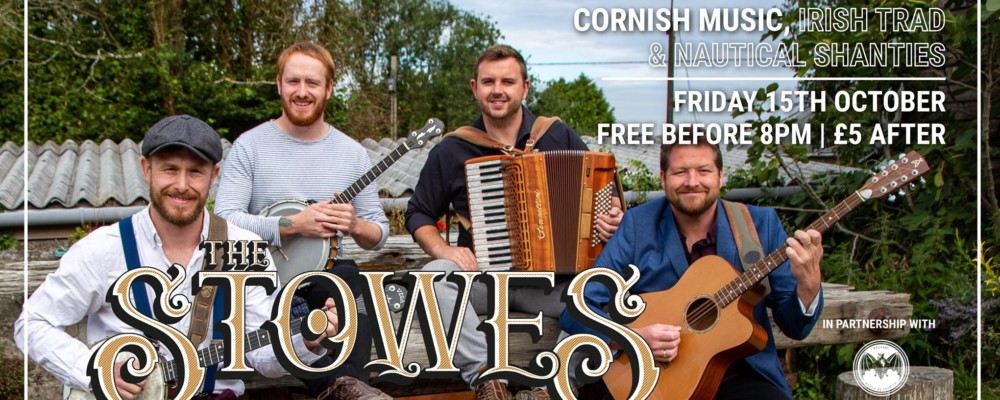 THE STOWES @ THE SOCIAL BAR, LISKEARD – OCTOBER 15TH
October 15th, the Social Bar, Liskeard welcomes the local and authentic: THE STOWES
Since their formation in 2012, The Stowes have built on a shared love of traditional
Celtic music and unique personal experience to create a signature sound that is
becoming rapidly recognisable across the Cornish and Celtic folk scene.
Often described as difficult to pigeon hole, the group seamlessly transcends the
boundaries between traditional genres and styles, with those most notable being
Cornish music, Irish trad and nautical songs and shanties. Combine with that a subtle
hint of bluegrass, a driving beat and a strong passion for Cornwall and Cornish history,
and the result is an infectious energy that appeals to audiences of multiple generations
and enthusiasts of almost every genre.
The group consists of members Tom, Calum, Kevin and Jamie. Tom and Calum have both
had successful careers at sea in the Merchant Navy, with Calum still actively serving.
Kevin comes from an industrial background and so has a strong affinity to working class
songs and Cornwall's rich industrial heritage, whilst Jamie's proud Cornish and Irish
ancestry has created a passionate and unique playing style.
Free entry before 8pm, £5 after 8pm.