Liskeard Cornish Christmas – Liskeard Lights Up 2019
Event Navigation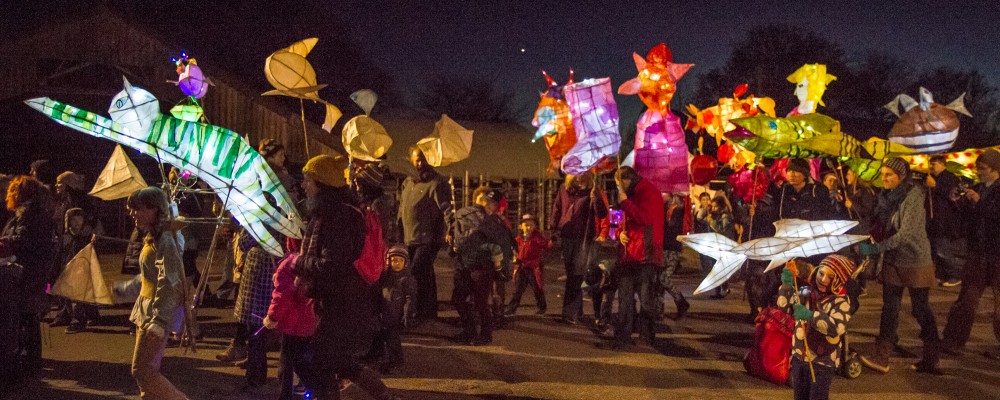 Liskeard will be celebrating Christmas in a traditional Cornish way again this year with a very special Lights Up including a Christmas party, a wild hunt, a children's trail around town and a chance for everyone to learn a bit of Cornish, singing and dancing. Thanks to Cornwall Council there will be free parking in Liskeard's main car parks on Saturday 30th November so you can enjoy all the fun at a leisurely pace.
.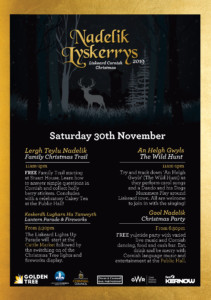 11 am – 1 pm: Family Christmas Trail: Lergh Nadelik Teylu starting at Stuart House, follow a map and clues to hunt the white stag 'helghi di an karow gwynn' around the town. Answer simple questions in Cornish and collect stickers, then enjoy a celebratory 'cakey tea' at the Public Hall. Last registration at 12.30pm.
11 am – 1 pm: The Wild Hunt: An Helgh Gwyls an expedition around the town with Dando and his Dogs mummers play, singing in the Cornish language. The final performance will be at the Public Hall during the 'cakey tea'. All welcome.
5.30 pm: Lights Up Parade and Fireworks: Keskerdh Lugharn Ha Tanweyth leaving from the Cattle Market Car Park, the lantern parade weaves its way through town via Pike Street and Fore Street. This year the theme is 'Under the Clock'. Then gather outside Webb's House, listen to the Silver Band and see the switch on of the town's Christmas lights and a fireworks display.
6.30pm: Party: Gool Nadelik Free Yuletide party in the Public Hall. Music from the Cornish Groove Collective and Rubber Band Inner Tube. Cornish Guise dancing with Scoots Kernow. Food is supplied by the Real Junk Food Project on a pay as you feel basis and there will be a cash bar.
.
There is no need to book or register in advance for any of the events just turn up! One and all welcome!