The Taming of the Shrew – Sterts Theatre
August 12, 2015 @ 7:30 pm
|
£12/£10/£8
Event Navigation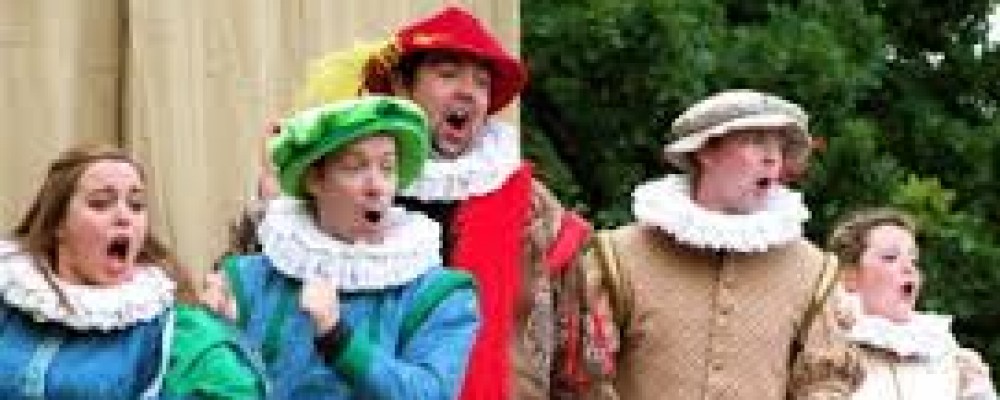 Everyone wants to marry mild-mannered Bianca. No-one wants to marry her acid-tongued older sister Kate. Their father won't let anyone marry Bianca until a husband can be found for Kate – but no-one knows anyone mad enough to take her on. Until Petruchio comes to town. What happens when a woman who suffers no fools meets a loud-mouthed braggart when neither is ever lost for words? Sparks are guaranteed to fly in Shakespeare's rumbustious battle-of-the-sexes comedy, where nobody is exactly who they appear to be!
Few plays divide critical opinion more sharply than The Taming of the Shrew.  For some it is an offensive barrage of misogyny and cruelty.  For others it is a love story wrapped in a very funny farce. The commentator Harold Bloom famously remarked: "My students initially blink when I tell them that Petruchio and Kate fall forever in love at first sight, but my observation is merely true."  Illyria's Shrew falls very firmly into the second camp – and the fact that the play is performed uncut, complete with the framing device Shakespeare wrote for it, helps to clarify why.
Illyria has been touring nationally and internationally since 1992, and is most widely celebrated for its productions of Shakespeare's comedies. The company won its first of 4 international awards the last time it produced The Taming of the Shrew back in 1998. It has also attracted numerous "5-star" and "Critics' Choice" reviews for the lively clarity of its approach to Shakespeare's plays.
Illyria's productions are slick, physical and imaginative in execution. The Taming of the Shrew is performed in the open-air with only a handful of props and no scenery – as almost all Shakespeare's plays were originally conceived. It is played with characteristic briskness – Shakespeare was, after all, unequivocal about how long his plays take to perform. And, following performance practices in the Tudor, Elizabethan and Jacobean courts, the production uses both male and female actors. (Contrary to popular assumption, there was never a law prohibiting women from the stage. Anne Boleyn herself performed).